Aerial photography by Lionel De Antoni
The entire content in this site is copyrighted
For the licensing of my STOCK IMAGES, please contact: www.alamy.com
For the licensing of my STOCK FOOTAGES, please contact: www.pond5.com
For buying my FINE ART PRINTS, please contact: contact@aerial-photos.com
THE PILOT / PHOTOGRAPHER
Welcome to my website of aerial photography of our beautiful (and mistreated) planet. My love of flying came in the winter of 1979/80 when I experienced the exhilarating thrill of jumping out of an old Noratlas airplane as a paratrooper in the French Army. In the late 1980s, I decided to get my Private Pilot License in the United States. Back then, I was not a photographer yet, instead I was taking international visitors with cameras on aerial sightseeing to show them the stunning scenery of the American West from 500 feet above ground level. Aerial photography came later in the mid 1990s. To build my extensive stock of aerial photography, I have flown airplanes, drones, paragliders, and paramotors.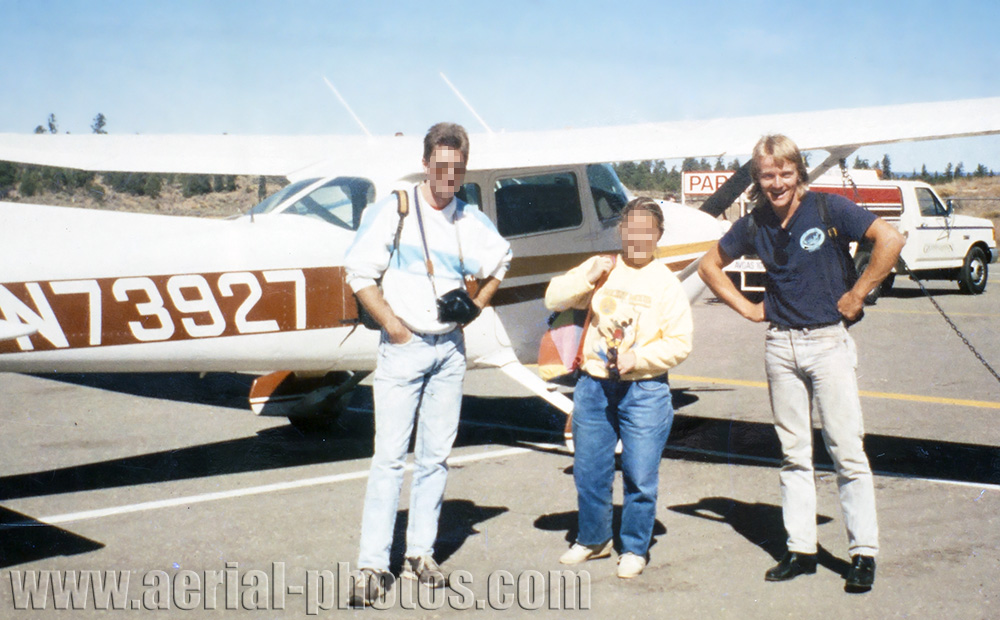 Lionel, the pilot and soon-to-be photographer as a flying tour guide and his passengers after a sightseeing flight in a Cessna 172 over the Grand Canyon in Arizona, USA (in 1989).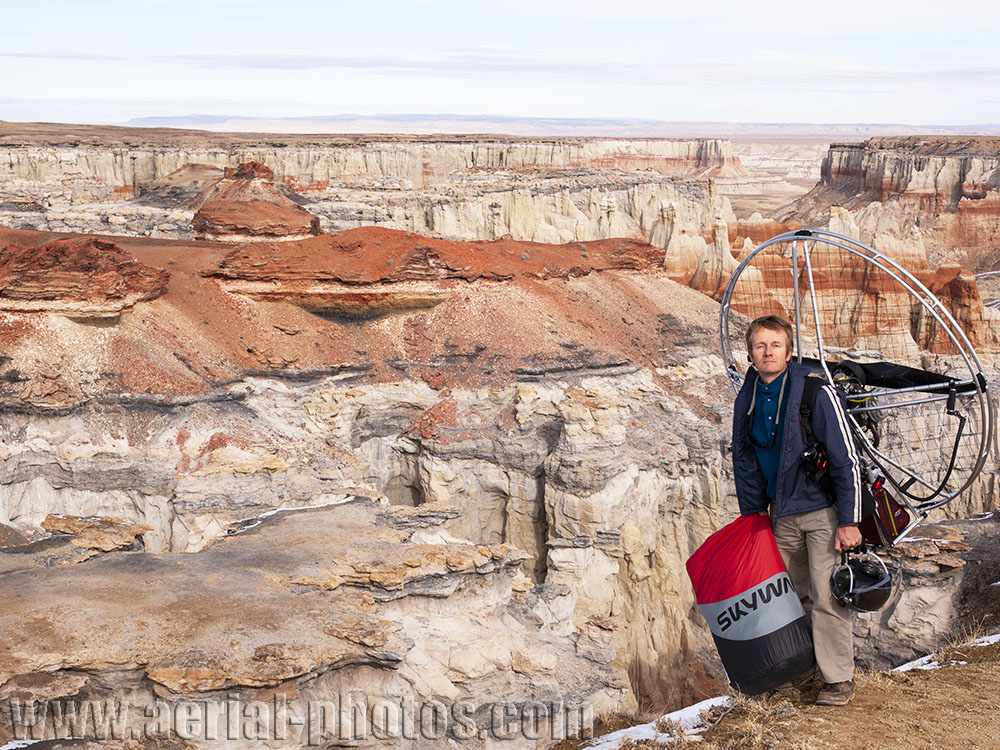 Lionel with his amazing portable aircraft on the rim of Coal Mine Canyon. Navajo and Hopi Reservations boundary, Arizona, USA (in 2007).
THE AIRCRAFTS
For aerial photography, I will fly different aircrafts depending on weather, budget, airspace restrictions, etc. AIRPLANES I fly Cessnas (152, 172, 177). I like in particular the 177 RG as this high-wing aircraft has a Retracting Gear and no wing struts to obstruct the field of view. DRONES The DJI Inspire 2 is a fantastic tool for aerial videography, but the quality of a still picture with its X5S camera is not nearly as good as what we can get from a camera with a full frame sensor. A bigger drone capable of lifting a professional full frame camera would not be as cost effective as a paramotor as such a drone costs much more to buy. A while ago, I lost the Inspire 2 as it was not responding for some unknown reasons, and consequently crashed. The log record was inconclusive, so DJI decided not to replace it although it was under warranty. With that $6500 setback, I am not, for the time being, using a drone. HELICOPTERS I do not fly helicopters but on some occasions, I will charter one such as a Robinson R22 for some shootings when airplanes, paramotors or drones are inadequates. PARAMOTORS They are fantastic aircrafts for aerial photography. They are easier and safer to combine the activities of flying and taking photos at the same time. Their slow speed (20 to 25 knots / 37 to 46 kph) makes them easier to compose the approaching subject. As an environmentalist, I'd rather use a flying apparatus that is "greener." This paramotor's 4-stroke engine (manufactured by BaileyAviation) is quiet and has an astonishing gas consumption of only 2 liters per hour (as compared to 40 liters per hour with a Cessna 177 RG). It sips gasoline, yet, it has enough power to reach altitudes of 5km or more. Its 10-liter gas tank allows for a 5-hour flight (as compared to the 15 to 20 minutes maximum with a drone). Since it is a motorized paraglider, I can when I encounter some updraft (column of rising warmer air) shut off the engine, soar quietly with the eagle and gobble up the amazing sights. Aerial photography without an aircraft is possible with the use of a TELESCOPIC MAST dedicated to photography. This is my favorite tool for low aerial photography. It can extend up to 10 meters and offers a wide range of very interesting photographic possibilities while being very cost-effective. It is a great tool (and only option) when shooting above a crowded space in an urban environment. The FujiFilm GFX 100 camera is wirelessly connected to a smart phone attached at the base of the mast and basic camera setups and shooting can be done from the smart phone.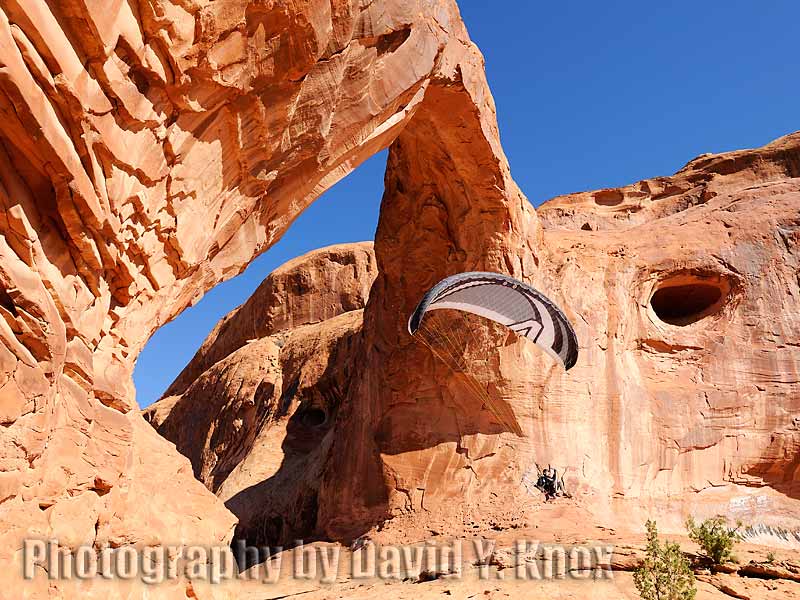 Lionel flying his paramotor through Corona Arch, photo by David Y. Knox. Moab Area, Utah, USA (in 2009).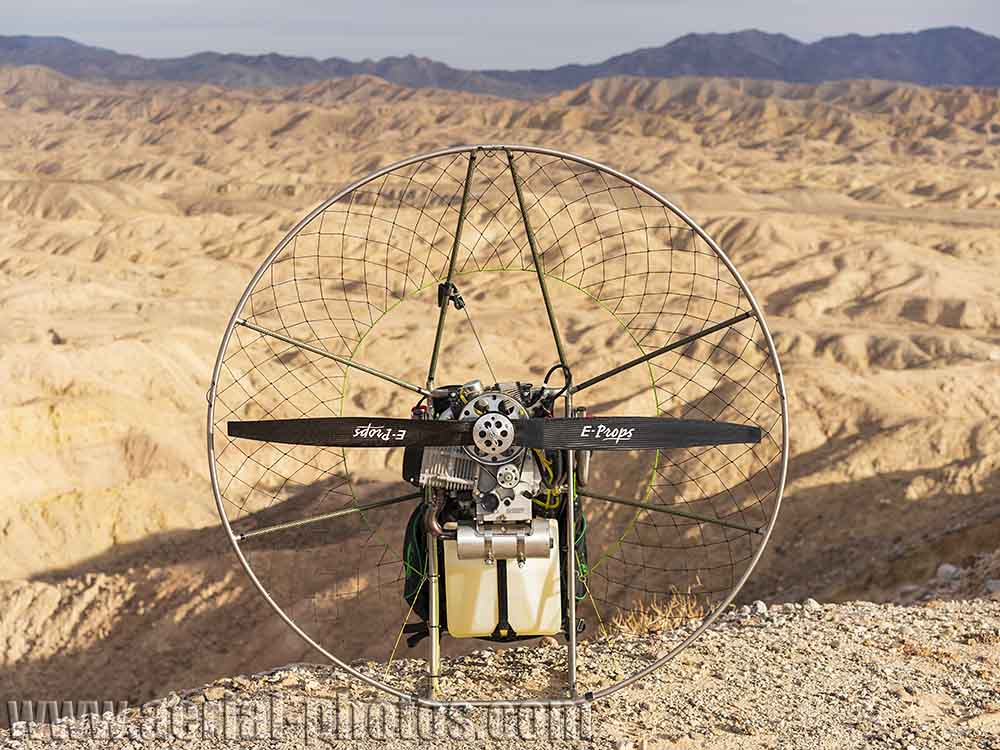 The amazing paramotor: a 4-stroke engine from www.baileyaviation.com mounted on a titanium chassis from www.rultralightusa.com Truckhaven, California, USA (in 2018).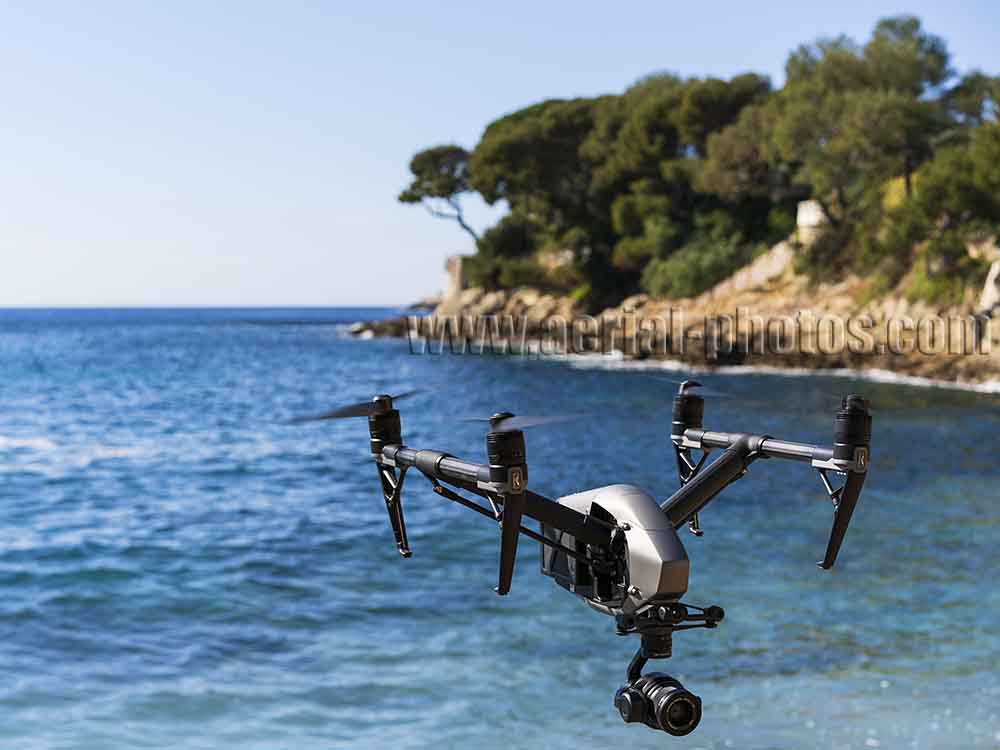 Rogue drone: my Inspire 2 with a mind of its own has self-destructed in 2017. Saint-Jean-Cap-Ferrat, French Riviera, France.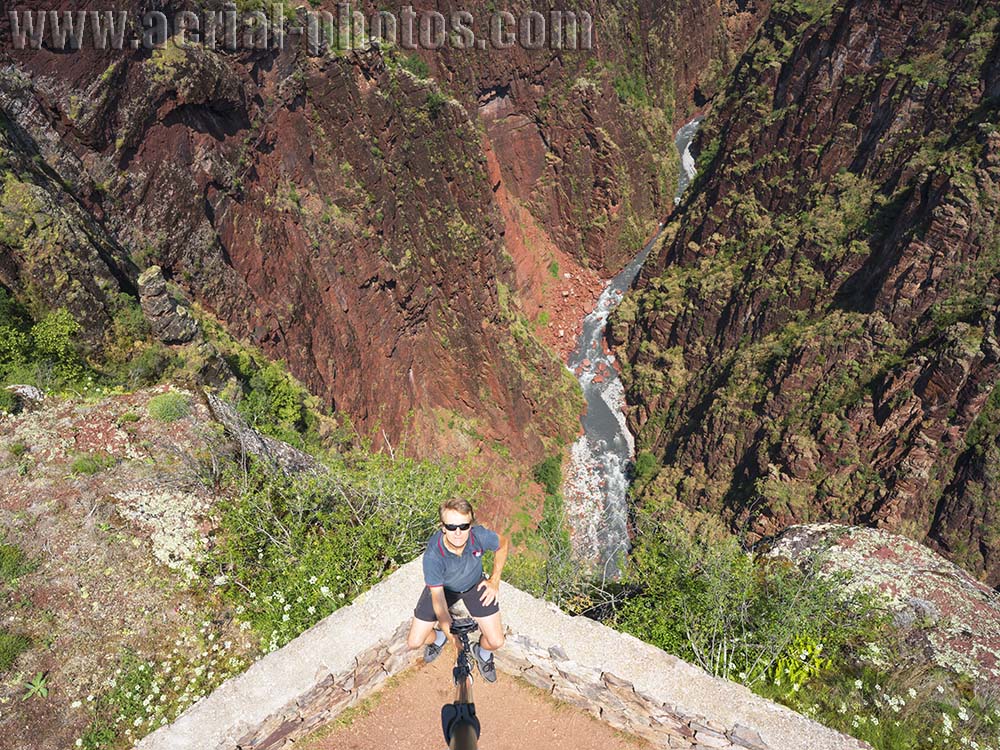 The telescopic mast coupled with a full frame or large format digital camera is without equivalent for low aerial photography in ultra high definition. Self-portrait with a selfie stick on steroids at "Point Sublime," 270 meters above the Var River. Daluis Gorge, Alpes-Maritimes, France (in 2018).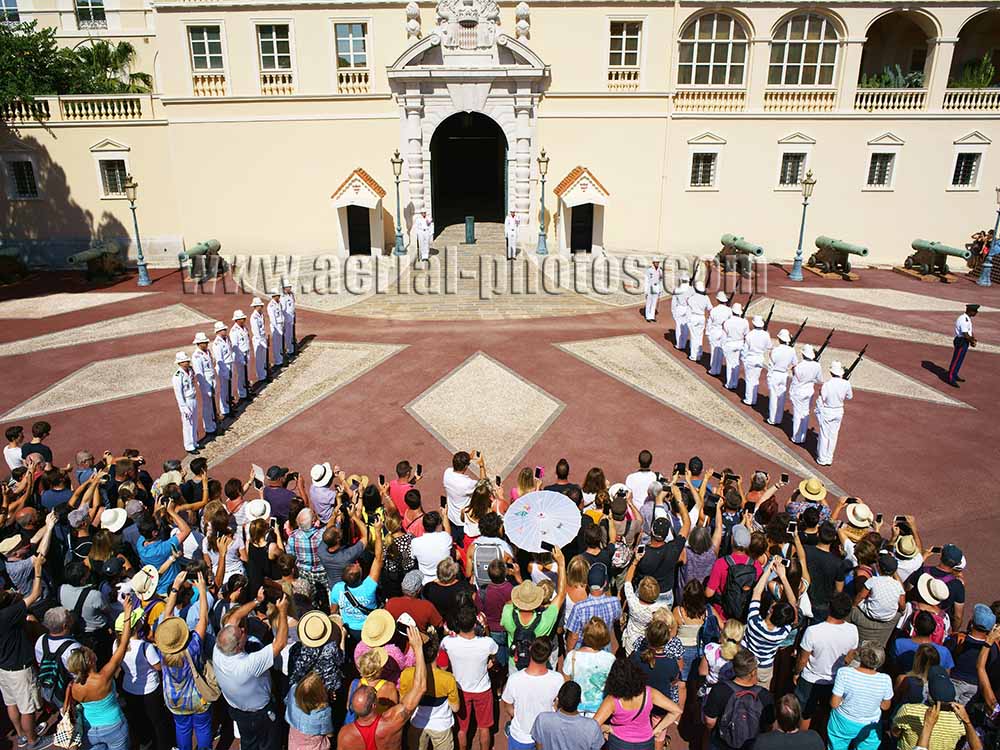 No Drone Zone! No problem. The telescopic mast from www.photomast.com will save the day. The changing of the guard in front of the Prince's Palace. Principality of Monaco (in 2018).
THE CAMERAS
Towards the end of the film photography era, my camera of choice was the 6x7 medium format of the Mamiya 7. This unique camera, although it had the weight and size of the popular 24x36mm cameras, had a format 4.5 times bigger, so a direct Ilfochrome print from its slides was far superior to what I would get from a 24x36mm camera. As an aerial photographer with a paramotor, and running (literally) into the air, having a light camera capable of producing highly detailed prints from slides was paramount. This camera had a ratio of light weight to large print potential like no other camera on the market. But, with the rise and improvements of digital cameras in the early 2000s, I embraced this new technology when a threshold of 20mp was reached with the full frame Canon EOS 1Ds mark 3 which I acquired in 2007. Not being committed to a particular brand, I switched to various brands offering the most advanced sensors; 36mp with the Nikon D800 (in 2014), 42mp with the Sony A7R II (in 2017), to my current 102mp FujiFilm GFX 100 (since September 2019). All the pictures on this website have been made with prime lenses only. As compared to zoom lenses, they are sharper, especially in the corner, consequently, they have a greater print enlargement potential.

The magnificent Mamiya 7 (introduced in 1995).

The mini (657gr) but migthy (42mp at 10fps) Sony α7R III (introduced in 2018).

The bar has been raised: 102mp with the Fujifilm GFX 100 ludicrous mode (introduced in 2019).
IMAGES LICENSING
Most images for licensing are available at sizes in the range of 20 to 30mp. They are downscaled from a much larger file. The entire stock at Alamy has been shot with very sharp prime lenses only, so they will produce excellent prints at size up to 60x90cm (printed at 170ppi for a 24mp - 6000x4000 file). However, if you wish to print beyond that size, then you can contact me for further information as I may have the original ultra high definition file. Ordering of theses high definition aerial photos is done through Alamy, a large stock photography agency. The photos for sale are reasonably priced and are not more expensive than non-aerial photos, although they are more expensive to produce. They are on sale as "Rights Managed" photos only (the price is determined by usage).
For the licensing of my stock images, please contact: www.alamy.com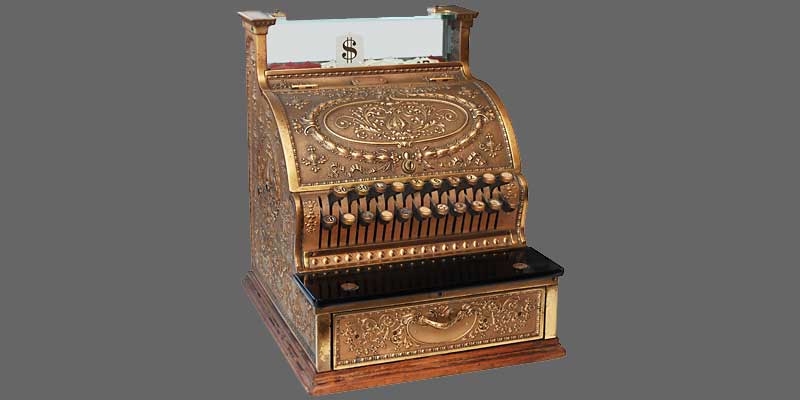 FOOTAGES LICENSING
All footages are available at a resolution of either 1080p or 4k. All aerial footages have been filmed with an electronic stabilizer to ensure a smooth result. Ordering of these footages is done through Pond5.
For the licensing of my stock footages, please contact: www.pond5.com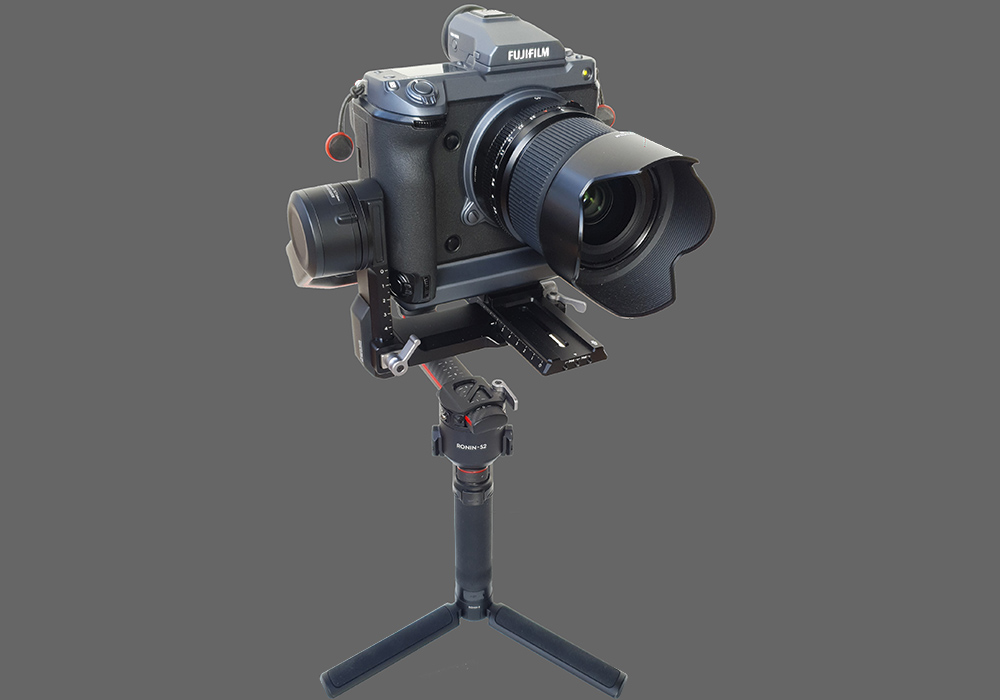 FINE ART PRINTS
ULTRA HIGH RESOLUTION PRINTING. My images, besides being available as a digital file for licensing, can also be obtained as an ultra high resolution metal print (by ChromaLuxe) as big as 180x240 centimeters (71" x 94"). A print this big from a large digital file (102mp) will be stunningly sharp when being scrutinized at very close range. A print this big from a 42mp digital file will look stunning as well, but from a normal viewing distance (one print size away). As technological advancements in the sensors of digital cameras keep progressing, I change my cameras every 2 or 3 years. My prints are available at a definition of 42mp from March 2017 until August 2019 and 102mp since September 2019 with my current camera. This new camera, by far surpasses the quality I would get from my 6x7 medium format film camera. All my portfolio can be viewed by clicking the alamy link above, then you can either order the digital file directly from Alamy as a 20 to 30mp file and have it printed in your local lab (best for a size not exceeding 90x120cm) or get the reference number and check back with me to verify if that image can be printed as a stunningly highly detailed luxury big print. For delivery time and shipping costs, ask as it will depends on where you live and which reputable pro lab I will work with. CHROMALUXE is an interesting printing method where the dyes are infused into a coated 1-mm-thick aluminum panel. The Chromaluxe prints have a remarkable gloss, the colors are vibrant. They are archival, scratch and water resistant and surprisingly fire resistant as well. So, you may prefer the "toughness" of Chromaluxe prints for temporary outdoor display, a place like a hotel or corporate office where rough handling can be expected or even a bathroom as high humidity will be no problem. ChromaLuxe prints being scratch resistant and rigid, unlike traditional printing papers, they do not need any additional costly substrate for rigidity, matting, framing and protective glass or acrylic. If you would like to have a small test sample for evaluation, it can be printed at the same resolution (Dots Per Inch) as your desired final big print, and sent to your address for 50€. If you decide, then to order a print the 50€ will be deducted from your order. For shipping cost, contact me as you may not have to pay anything depending on your location. ChromaLuxe is also available with a mat finish. All prices below include a hidden floating mount and are ready to hang.
90 x 120 cm (33"x47") 900€
120 x 160 cm (47"x63") 1500€
150 x 200 cm (59"x79") 2200€
180 x 240 cm (71"x94") 3000€
For buying my FINE ART PRINTS, please contact: contact@aerial-photos.com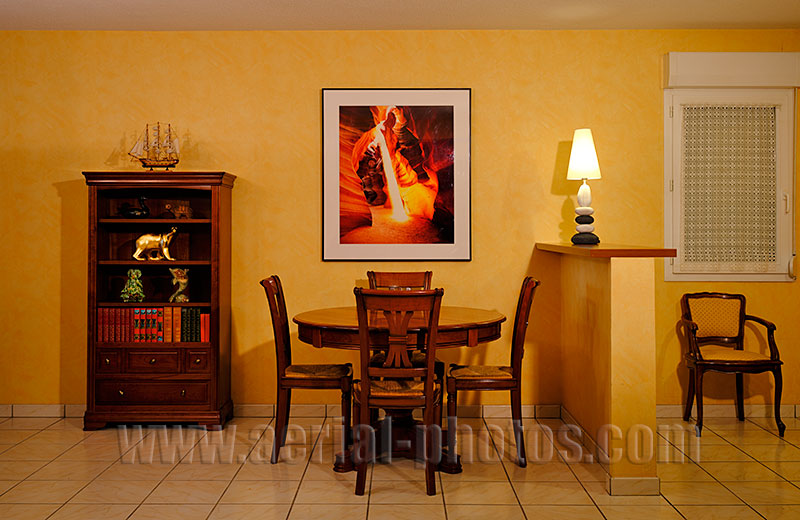 Fine art photography. 74 x 90 cm ilfochrome image of Antelope Canyon, Arizona, United States, mounted on an aluminum panel in a 97 x 112 cm frame.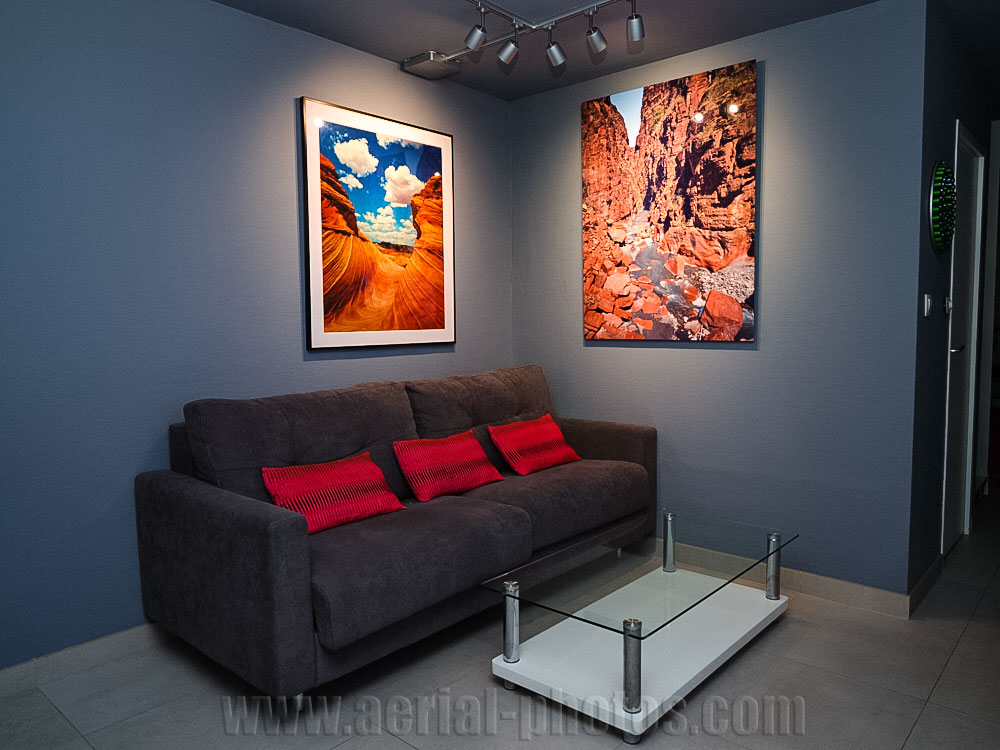 Fine art photography. 74 x 90 cm chromogenic image of The Wave, Arizona, United States, mounted on an aluminum panel in a 97 x 112 cm frame and a 90 x 120 cm ChromaLuxe image of Daluis Gorge, Alpes-Maritimes, France.
HOW BIG CAN IT BE PRINTED AND KEEP ITS RESOLUTION? There are four samples below for you to have an idea. These four images have been downscaled from the original file to a size (long edge) of 800 pixels, the 300x300 pixel image in the upper right excerpt is at native resolution. If for instance, the 102mp picture of the Primošten Peninsula measures 15cm (5.9") lengthwise on your computer screen, multiply that by the indicated factor (14.56) and you get a 2.18 meter (85") print with the definition you see in the upper right excerpt where you can clearly see every stone on the front of the church. Note: I do not print any large picture from the 20mp micro 4/3 sensor of the drone camera because of the low resolution, I use this camera only for 4K aerial filming.
20mp (5272 x 3948 pixels) with the X5S camera from the Inspire 2 DJI drone. Sea Pinnacles. Esterel Massif, French Riviera, France (in 2017).
36mp (7360 x 4912 pixels) with the Nikon D800 camera. Niederwalddenkmal, Hesse, Germany (in 2016).
42mp (7952 x 5304 pixels) with the Sony α7R III camera. Algodones Dunes, Sonoran Desert, California, United States (in 2018).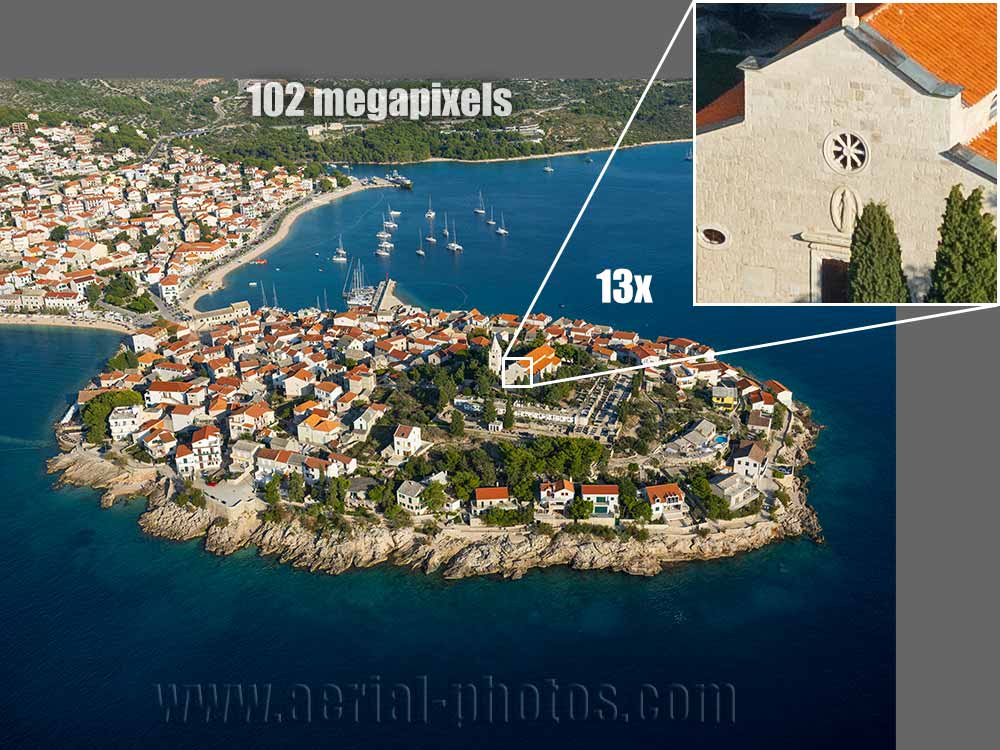 102mp (11648 x 8736 pixels) with the Fujifilm GFX 100 camera. Primošten, Dalmatia, Croatia. (in 2019).